COMPANY LISTING
Eclectic/Encore Props
Categories: Americana, Amusement, Antiques, Appliances: Bath & Kitchen, Arms & Armor, Art Deco, Art Rental, Artificial Flowers-Trees-Plants, Artificial Food & Ice, Bar Supplies, Baskets, Beauty/Barber/Make-up Chairs, Beds & Bedroom Furniture, Beds, Specialized/Custom Made, Benches, Bicycles, Books & Magazines, Brass Bed Furniture, Cameras, Film, Stills, Video, Camping Equipment, Candelabras, Carriages/Wagons/Carts, Caskets, Chair/Table Rentals, Chalkboards, Chandeliers, Chinaware, Christmas Decor, Church Supplies, Circus, Clocks & Watches, Antique, Columns, Computers, Props, Costume Rental and Sales, Designer Clothing, Shoes & Accessories, Display Fixtures, Doll Houses & Antiques Dolls, Draperies, Dressing Rooms, Equestrian, Eyeglasses, Fences, Fiberglass, Firearms, Weapons, Fireplace Equipment, Flags, Furniture: 40's, 50's, 60's & 70's, Furniture: Agency/Client Seating, Furniture: Contemporary/Classic, Furniture: Country, Furniture: Garden, Furniture: Office, Games, Glass/Mirror, Glassware, Gold Leafing, Green Room Services, Jewelry-Costume, Kitchen Accessories, Ladders, License Plates, Lighting Fixtures, Locations, Lockers, Luggage, Mannequins, Marble, Medical, Microphones, Vintage, Mirrors, Music Boxes, Musical Instruments, Neon, Oriental Rugs, Party Supplies/Decorations, Pewter, Picture Vehicles, Pillows/Furniture, Podiums/Lecterns, Prop Houses, Pushcarts, Quilts, Restaurant Equipment, Rocks, Artificial, Room Dividers, Seashells/Coral, Sheet Music, Shelves/Bookcases, Signs, Silver, Sporting Goods, Stages - In Town, Stained Glass, Statuary, Stools, Street Lamps, Surfaces, Tables/Table Tops/Chairs, Telephones, Toys, Vintage, TV/VCR, Vending Machines/Coin Operated Equipment, Vintage Travel Props, Wicker
Eclectic / Encore Props Inc. is one of the largest prop rental companies on the East Coast. Founded in 1986, we carry an extensive collection of furnishings and party decor items.

Our 95,000 sq. foot showroom is divided into three comprehensive floors, allowing you to quickly locate your specific needs and our rental staff will help you define your style and create the best presentation possible.

Whether creating a set for motion picture, television or trying to put a new slant on a theme party, Eclectic/Encore is equipped to assist you in any way.
CLICK HERE TO CONTACT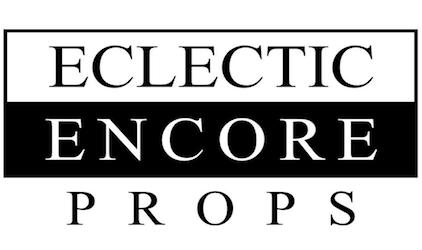 Main Contact Info:
Address:
47-51 33rd St.
Long Island City, NY 11101
DOWNLOAD VCARD